Specialists know it pays to be able to recognize Central Asian head gear. One ingredient is those worn by Khirgiz women, easy to recognize, viz., these two photographs. The one with the loom (c. 1900) makes it possible to get a look at a Khirgiz carpet, the ladies involved are labeled kara khirgiz.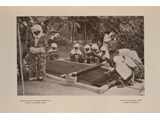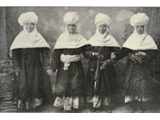 (click on images for large views)
A little context is useful in this regard. The pre-revolutionary Russian travel and rug literatures have a quirk in frequently referring to Kazaks as Khirghiz. R. Karutz, for example, spent many happy days (1st decade, 20th c.) among "Khirgiz", all Kazaks. Received wisdom has it that the term Kazak was not used in order to avoid confusion with Cossack, a group close to the Russian experience. [1] Perhaps. But not all accounts got it wrong; Nash Sociedi ... (1873) had it straight; other sources salvaged matters with hyphenation or the prefix kara . The sovietization of the area imposed a somewhat phony set of ethnicities which ended the mislabeling.
The run of the mill pre-revolution rug and travel literatures puts Khirgiz [2] work at the low end of the carpet quality totem pole, raising the possibility that opinion in re some Kazak work was somehow involved. The true Khirghiz invariably won top honors for the best felts (white). The well-grounded Dudin, an artist on survey expeditions, had the Khirgiz straight, although giving them rather short shrift; in his shorter text he correctly has them (lumped together with Uzbegs) in Ferghana, and likens their rugs to those of the Karakalpak, citing one group – Gydyr – as having the most successful carpets.[3]So, too, does Semenov, a Central Asian scholar, discussing rugs by geography, associating Khirgiz and Karakalpak types in appearance, and locating various Khirgiz weaving villages in Ferghana and Semi-Rechie oblasts (major governmental units). [4]
In 1926 Tumanovich, a Turkmen working and publishing in Ashkhabad, set forth the background of the terms Kirgiz-Kazaks, and Kara (Black) Kirgiz.5]
.
Copyright © Richard E. Wright, All Rights Reserved