Rug Travelogue – Persia
September 2012
Henry Savage-Landor was a painter, lived in various countries, and legitimately can be called a world traveller.   Not well remembered nowadays among the late 19th c. travel authors, his books are largely forgotten and he lives on in them in an obscurity quite the opposite from his great popularity at the turn of the century.  Best remembered for his extreme misadventures in Tibet, among his many works is a straight-forward two volume account of a journey through Persia starting from Rescht in August, 1901: Across Coveted Lands.[1]  Carpet-making notations are scattered throughout; most of these, excerpted and somewhat abridged, are scattered throughout the old newsletter form of Research Report, by place or rug category.
It seemed to be fun to do a sort of Fourier Transform (turn something inside out) and to use the Landor narrative, more fully cited, to recapture those observations and to serve as a skeleton for attaching a few comments by other travellers.  With respect to such accounts it is good to remember that words are a crude instrument for communicating visual information.  And, art is also, after all, a matter of taste.
Here follow the Landor observations; page references (in parens) are all to Volume I unless noted as Vol II.
"The chief manufactures of Kasvin are carpets, a kind of coarse cotton-cloth called kerbas, velvet, brocades, iron-ware and sword blades which are much appreciated by Persians."  (p. 77) When Landor uses the word "carpet" the meaning is something with pile.
The book contains an observation on the Ziegler operation which began in Tabriz and spread to other cities. "The carpets, which are specially made for the European market, are manufactured chiefly at Sultanabad where thousands of hands are employed at the looms, scattered about in private houses of the people, and not in a large factory. The firm takes special care to furnish good wool and cottons coloured with vegetable dyes, and not with aniline.   Ancient patterns are selected and copied in preference to new designs.  Of course, besides these, other carpets are purchased in other parts of the country.  Carpets may be divided into three classes.  The scarce and most expensive pure silk rugs, the lamsavieh or good quality carpets, and the mojodeh or cheaper kind.  There is good demand [for] the two latter qualities all over Europe and in America. (p. 153)
"Articles specially dealt in are the cotton and wool fabrics called ghilim, the designs of which are most artistic; and to a certain extent other fabrics, such as the vividly coulored Kashan velvets, the watered silks of Resht, the Kerman cloths resembling those of Cashmir, and also the silver and gold embroidered brocades of Yezd, and the silk handkerchiefs manufactured in the various silk districts, principally Tabriz, Rescht, Kashan, and Yezd." (pp. 153/154)
Isfahan has a "flourishing" carpet-making industry. (p. 185)
On Azerbaijan: "The carpet trade, which at one time seemed to be dying out, is now about to enter in a prosperous phase." (p. 187) While this statement is a little behind what the situation was at that point, Landor is essentially correct. The government kustar' support program had very recently hit full stride.
Mayaler and Borujird districts – "The people are extremely industrious, being occupied chiefly in carpet-making for foreign export, and preparing opium and dried fruit, as well as dyed cottons." (p. 189)
Concerning "Khuzistan province, or more narrowly Arabistan, Farsistan, & Luristan, or narrower still, Shiraz" … Indigo, horses, mules, and carpets form the trade of the province." (p. 190/191)
With respect to Baluchistan nomads, "They manufacture rugs and saddle bags and breed good horses and sheep." (p. 191)
A visit to the Shah's palace produced a number of notes.
On the "platforms" for the throne: "On the upper platform was spread an ancient carpet." (p. 227) Which might have looked something like this –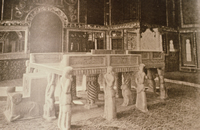 On the reception room: "… and some Sultanabad carpets more than fifty years old." (p. 227)
On the Shah's banquet room: "Most interesting of all in the room, however, was an exquisite old carpet with a delightful design of roses.  It was the carpet that Nasr-ed-din Shah brought to Europe with him to spread under his chair." (p. 229/230)
On the Shah's favorite apartment: "…and we trod on magnificent soft silk carpets of lovely designs.  One could not resist feeling with one's finger the deliciously soft Kerman rug of a fascinating artistic green, and a charming red carpet from Sultanabad.  The others came from Isfahan and Kashan.  The most valuable and beautiful of all, however, was the white rug made in Sultanabad, on which the Shah stands when receiving an audience." (p. 230)
Concerning Kashan: "The silk manufactories are said to number over three hundred, including those that make silk carpets of world-wide renown. " (p. 247)
In Isfahan the author visited a carpet factory employing children age 6—10, in what seemingly amounted to a sweat shop (12 to 14 hr. days, sore-eyed kids) with vertical looms.  Cartoons were used only for difficult patterns or in the case of European design; absent cartoons, the lead boy sang out the stitches. Isfahan also resorted to the by then relatively widespread practice of aging carpets by spreading them out in bazaar traffic. It was also the case that carpets were "contaminated by European commerciality", that the use of aniline, "ghastly", was very common, and that their being export items, they did not receive as much care as items for the domestic market. (p. 315)
Kerman carpets made with soft and silky wool are described, along with identification of a factory: "The principal carpet factory is in the Governor's palace where old designs are faithfully copied and really excellent results obtained."  Landor's view was that of the thirty different Persian carpet types Kerman was the most beautiful in design, color, softness, with conventional plant, flower, and bird representations, employing "delicate and very varied tints". (p. 315/316)
Kurdisan's product was principally small prayer rugs "rather vivid in colour." (p. 317)
In northeastern Persia, commenting collectively on Meshed, Sultanabad, Kaian and Birjand the observation was "some very thick carpets are made, of excellent wear, but not so very artistic."   There is a specific description of the Birjand product: "…brown camel-hair is a prevailing colour, used too freely as a background, and often taking away from the otherwise graceful design." (p. 317)
A number of other travellers wrote essentially the same description – Smith (c. 1871), placing the production center at "Darakash"; Sykes (c. 1900); (Yate, c. 1900); (Curtis (c. 1910).[2] Sykes and Yate stated that aniline dyes were extensively used, making negative comments, e. g. "too glaring".  A generation earlier, C. M. MacGregor also was in the area and visited over a dozen shops: "…the colours were always brilliant and good…but…there was immense room for improvement in the patterns…with a few exceptions, glaring and in bad taste…on a ground of gaudy color." [3]
Later in his narrative Landor returned to the Birjand topic: "The industries are practically confined to carpet-weaving, the carpets being renowned all over Persia for their softness, smooth textures, and colours, which are said never to fade, but the designs on them are not always very graceful nor the colours artistically matched. The most curious [this word probably had its old meaning of finely made] and durable are the camel-hair ones, but the design usually with a very large medallion in the centre does not seem to appeal to European eye.   Even the smallest rugs fetch very large sums.  Although called Birjand carpets they are mostly manufactured in some of the villages north of Birjand, especially at Darakush." (Vol II, p.97)
The "camel hair" rugs can cause a little marketplace difficulty, and they are around. [4] By visual appearance they could be confused with the lowly Hamadan and the more trendy Serab.  Best to take a look at structure.
Shiraz rugs get a thumb-nail description: "… the long narrow rugs, as soft as velvet, and usually with geometrical designs on them.  Red, blue, and white are the prevalent colours." (p. 318)
"The Beluch rugs are somewhat minute and irregular in design, deep in colours, with occasional discords of tones, but they recommend themselves by being so strongly made that it is almost impossible to wear them out.  They are generally small, being woven inside their tents by the women." (p. 318)
A good deal later in the book, when actually in Baluch territory, Landor offers a more extensive (and revised) version of carpet-making: "The weaving looms are the largest and principal articles of furniture one notices – not inside but outside the houses… the women work with extraordinary rapidity and with no pattern before them, beating each transverse thread home by means of an iron comb held in the hand.  The pattern on the cloths is of a primitive kind, generally sets of parallel lines crossing one another at right angles." (Vol II, p. 417) Which would have looked something like this –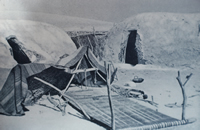 An aside about northern Persia gives a little insight concerning a different, and by Landor's time a well established trade:  "In Northern Persia Turkoman carpets seldom [are] found, generally bought up by Russians." (p.318)
In Kerman the governor and a nephew supervised carpet-making: "There are a great many looms in the buildings adjacent to the Palace and hundreds of hands employed in the Governor's factories.  He also possesses a good collection of very ancient carpets, from which the modern ones are copied." (p. 436/437) Percy Sykes made the same comment, taking credit for having caused this return to traditional design, a policy shift away from prior practice. 
All things considered, Landor produced a decent travelogue of Persian carpet-making at the beginning of the 20th century.
---
---
Copyright © Richard E. Wright, All Rights Reserved